History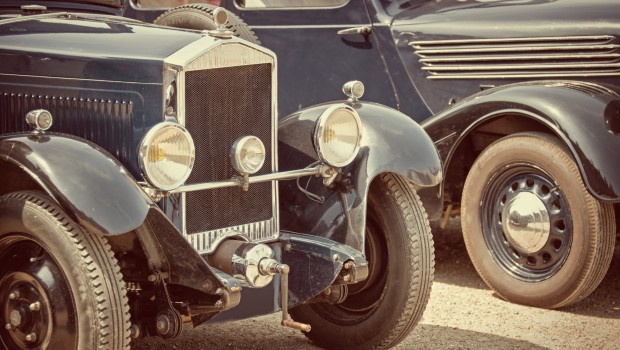 Published on July 10th, 2015 | by BirminghamLiving
0
The Birmingham Car Industry
Early motor cars were referred to as horseless carriages and it was a very apt description for in some instances the original horse coach or carriage builders built the bodies. A good example is the Northampton company of Mulliners, who were established in Gas Street in 1885. They took over the business of William Findlater, and diversified into the building of motor car bodies.
The Lanchester brothers were the earliest producers of motor cars in Birmingham. Frank Lanchester was works manager at the Forward Gas Engine factory when he started experimenting with car design. In 1893 Fredrick Lanchester designed and built a vertical single cylinder engine which was fitted to a flat bottomed boat designed by his brothers. The boat was most likely the first all British power boat and was launched at Salter's slipway in Oxford in 1894.
In 1895 Fredrick Lanchester built what was most certainly the first petrol driven four-wheeled car ever made in Britain. A design exercise, it was fitted with a single cylinder air cooled engine which was later modified to two cylinders with two contra-rotating flywheels for engine balance, a worm final drive, epicyclic gears, tangent spoked wire wheels and pneumatic tyres.
The second Lanchester, which is in the Science Museum at Kensington, was again another advanced innovative design. It was fitted with a twin cylinder engine with a separate crankshaft, one above the other rotating in opposite directions and connected by skew gearing. Each shaft carried a flywheel at opposite ends.
On the 30th November 1899 the Lanchester Engine Company was formed and the Lanchester brothers purchased a factory which had previously been part of the National Arms and Ammunition Works in Montgomery Street. This factory was known as Armoury Mills. In 1899 they also started work on a even more advanced third car and it was this model that was put into production in 1901 and was the start of Lanchester's long term car production.
In 1903 they took over the adjacent Radix Works and also acquired the Alpha works in Liverpool Street. In 1918 the company took over the Alliance works in Foremans Road in which had been built for Rudge Whitworth. In 1923 they sold this factory to Joseph Lucas for battery production.
Three of the four Lanchester brothers, Fred, George and Frank, became at one time or another involved in the Lanchester Car Company.
The Autocar magazine once stated that there were 36 early design initiatives on cars and Lanchester had contributed 18 of them! Fredrick Lanchester patented the first disc brake.
In 1931 Lanchester were taken over by BSA after running into financial difficulty. Lanchester then became incorporated within the BSA/Daimler range becoming the medium sized model.
A 15/18 H.P. 6 cylinder poppet valved engine with a fluid fly wheel excelled in the first RAC Rally held in March 1932, with a Daimler second. Lanchesters gradually became more and more just badge engineered Daimlers and production finally finished in 1956. The last model, which was never put into production, was the 'Sprite' which was to have featured the advanced Hobbs 'mechamatic' transmission.
Another early producer of motor cars in Birmingham was the Wolseley Sheep Shearing Company of Alma Street in Aston. The manager of this factory was one Herbert Austin, a man who was destined to become one of the most famous car manufacturers in the world. Austin designed a three wheel vehicle for Wolseley which was exhibited at Crystal Palace in 1896. Other vehicles were manufactured at Wolseley's and production was successful enough for a separate company funded by Vickers to be formed in 1901 called the Wolseley Tool and Motor Company. The new company took over the former factory of Starley Brothers and Westwood Company in Adderley Park. Starley and Westwood had been established in the cycle trade but had been forced to close when the cycle market collapsed.
Some car manufactures were merely assemblers but Wolseley were very much complete car manufacturers producing most of the parts themselves.
Herbert Austin had a disagreement with Vickers, in regard to his insistence on using vertical engines, and he is said to have cycled around Birmingham looking for a factory to start his own business. The building he found was the former tin printing works of White & Pyke at Longbridge, the rest is history! Austin started production in 1906.
In 1898 the very old established company of Alldays and Onions, who had been in business since 1650, decided to manufacture cars and in 1903, motorcycles. They opened a new works in Fallows Road, Sparkbrook known as the Matchless Works and also produced motor cycles from this factory from 1903.
Calthorpe had been early bicycle manufacturers. George W. Hands had started the company as the Minstrel & Rea Cycle Company in 1890 in Bordesley. In 1904 the name had changed to Calthorpe and they moved to 16-17 Barn Street in Bordesley to produce cars, this was followed by motorcycles in 1910/11. Car production was transferred to Cherywood Road, Bordesley in 1912 but by 1927 this works was closed and car production ceased. Calthorpe continued with motorcycles but went into receivership in 1938 and were bought by Douglas who intended to revive the brand but the intervention of war meant that the Calthorpe name disappeared.
Accles Ltd produced the Accles Turrell Autocar at Holford Mills in Perry Barr in 1900, production was however very short lived.
Components Ltd.were both early car and motorcycle manufacturers but saw little future in cars and decided to dispose of that side of the business to a French car company called, Societe Lorraine-Dietrich, in 1908. However the French invasion was short lived and due to the expansion of their motorcycle business, Components, who would be later known as Ariel, bought back the Bournbrook site in 1912.(Note Ariel may have disposed of the car business in 1906 to a company that transferred car manufacture to the Ordnance works in Coventry and the factory may have lain empty for 2 years)
Albert Eadie was a Birmingham business man who injected money into the ailing George Townsend and Company of Redditch. The company were originally needle makers but had branched into making cycle components and then in 1888, complete cycles. In around 1892/93 the Townsend family left the company leaving Albert Eadie in control.
In 1896 a new company was formed called the New Enfield Cycle Company. This company made bicycles and went onto to start motorcycle production in 1900.
In 1904 Albert Eadie formed the Enfield Autocar Company to manufacture light cars. In 1907 the BSA group made an offer for the company excluding the cycle and motor car division. Albert Eadie became a main board member and within two years was chairman of the complete BSA group. The Enfield Autocar Company moved to Fallows Road, Birmingham in 1908 and became Enfield Alldays in 1919. in 1923 the company seemed to be part of the restructured group called the New Alldays and Onions Company and it is believed they stopped car manufacture, selling the factory to Lanchester and moved to Sydenham Road, Sparkbrook where they continued to supply spares until the company closed in 1926/27.
In 1907 BSA took over the remaining parts of National Arms and Munitions factory, next door to Lanchester, and produced cars. In 1910 they took a controlling interest in Daimler cars of Coventry. In 1931 BSA took over Lanchester Cars and production was moved to Coventry.