Restaurants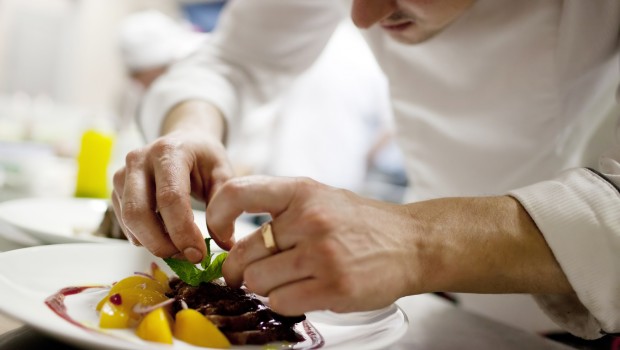 Published on October 5th, 2015 | by BirminghamLiving
0
Birmingham Restaurants
The 5 Best Restaurants in Town
Adam's | British Cuisine

Importance and popularity comes first, hence why "Adam's" is the top of our list. Located swiftly next door to the Town Hall, Adam's in an unbelievable amount of time earned it's Michelin star for the finest cuisine in Birmingham. If you've been searching for restaurants in Birmingham on the Internet, Trip Advisor and other online sites, you'll most likely see that Adam's is a very popular choice. Adam's is a sleek, modern restaurant serving up the freshest and most beautifully placed food – perfect for a lot of people who are looking to dine out. Be sure to wear something damn comfy, because customers can choose from a five or NINE course dinner, with three course meals available at lunch. All their dishes are seasonal and change depending on the times of the year, so if you have been reading reviews or someone's recommended this place to you – be sure to check that they didn't go in the Winter whilst you're going in Spring – the menu will most likely be completely different. A very important pointer, due to the high demand of people wanting to eat at Adams, their is an actual policy for cancellations so be sure to read up on that before you make a reservation. Apart from that, you will find the very best wine list to choose from accompanied by a passionate and highly skilled team – be sure to book your special event here if you can, you will definitely give a outstanding impression.
Purnell's | British Cuisine
It's not fair to call Purnell's second on our list seeing as Purnell's and Adam's have both been awarded their Michelin stars, Purnell's earning theirs back in January 2009. Purnell's is ranked number 8 according to Trip Advisor, yet they have a Michelin star award so they deserve to be right at the top of our list. If you're close to Colmore Row or St Phillips Cathedral, you will find Purnell's within meters of these two places. The restaurant decided on the given name by calling it after the Michelin star Birmingham chef himself, Glynn Purnell, he who set up Purnell's back in July 2007. Purnell's gives a really special feel to every individual that dines here, besides the fact that it's a very popular and lusted over restaurant. The outside layout and feel of Purnell's consists of Victorian redbrick and terracotta based on a corner building, providing large bay windows on both sides of the window providing a nice amount of natural light throughout the day. The inside interior is spacious and Purnell's has it's own bar lounge area – exclusive to diners only, where a pre-dinner cocktail or after dinner coffee can be enjoyed within the comfortable seating areas. The Private dining room caters to parties of 7-12 diners and with prior contact, the restaurant can be available for complete hire if parties were to be of a large size. So if you are in Birmingham or are in the area and you are after the ultimate gourmet adventure, maybe you're also after a Michelin star awarded restaurant, we couldn't recommend a better place that fits your description.
Morton's Kitchen | British Pub | Shirley Area

Mortons' Kitchen, Bar and Deli is a newly built, refreshing diner based in the heart of Solihul. With the building being newly built, it has enabled a specific design which enhances relaxed drinking and dining in a widespread space lit with mostly natural lighting. Morton's cater for more than one eating style, offering sizzling hot bar food grub indoors to offering the alfresco dining on their tree-shaded-terrace. With the alfresco dining option available, Morton's Kitchen is perfect for a lot of people. Shoppers who are after a light snack/meal, out door walkers passing by and anybody who likes to dine outdoors – especially when the weather is nice, are guaranteed to love Morton's Kitchen. Doors are open from 10am so that even if you don't feel awake, Morton's are happy to set you up for the day with a delicious latte or energizing espresso whichever may be your choice, followed by a healthy light breakfast featuring the scrambled eggs with smoked salmon. Maybe you had a heavy night drinking and fish and eggs are the last thing on your mind, Morton's can cater to your needs providing their traditional fry up which is loved by their visitors. Morton's passion is providing quality food with a quality service, so if you're around Solihull or are looking for somewhere where you can grab breakfast, lunch or an evening meal – Morton's Kitchen should be on your agenda.
The Warehouse Cafe | British, Vegan, Vegetarian, Contemporary Cuisine
The Warehouse Cafe specializes for the  Vegetarians and Vegans, which is greatly appreciated seeing as more and more restaurants are now catering to these dietary requirements. Placed in a cost situated in the upstairs part of the building, The Warehouse Cafe like to please even the meat eaters. Vegetarians and Vegan eaters shouldn't feel privileged when they find a cafe which only specializes in vegetarian dishes, because all pubs and restaurants should offer something appetising for none-meat-eaters. However people are usually limited in most restaurants with the same dishes, especially when they are dining with meat eaters and none vegans. Therefore If you're close by, send your love for everything green to the Warehouse Cafe. Their dishes offer a wide range of variety, meaning you may even find your new main favorite or you'll choose your current favorite meal but have someone to cook it for you!  Even though this cafe in particular is vegetarian food based, meat-eaters are most welcome and according to Trip Advisor, meat eaters love the food there as much as the vegetarian eaters which is a true sign of delicious, organic and damn good, fresh food!
Rico Libre | International, Spanish, Tapas, Contemporary Cuisine
There is something about the Brits and their love for Spanish food, and we can't knock it because let's face it, who doesn't love a good tapas!? For all of the tapas lover's make sure you eat out at Rico Libre if you're in the area. Set in the Industrial part of Birmingham stands a cafe-style restaurant that will definitely exceed your expectations. According to Trip Advisor, previous customers have stated not to judge the place by it's front and area (that being the industrial part). It's important that previous customers have stated where it's situated, especially for potentially new customers because it isn't stated on the high street meaning for anybody, it's kind of hard what to expect these days seeing as more and more restaurants are moving to the high street where they can offer the wow factor with interior and location. However, Rico Libre obviously is a winner in Birmingham and has truly proven that despite their setback in location, they provide the greatest Spanish food you could get your hands on in the West Midlands. So if you're not jetting off to Spain this year, make a point of visiting Rico Libre where even though it may be raining outside, your taste buds will back in your tapas restaurant abroad.
Birmingham Food and Drink in the Region: Solihlull
There's a myriad of international and home-grown food and drink venues on offer in Solihull with something for everyone, whether you're looking for a leisurely lunch, a special evening out, family occasions or a quick snack while you shop. Solihull High Street, The Town Centre is packed with great restaurants including: Yo! Sushi, Cafe Rouge, Pizza Express, Nandos, The handmade burger Co., Slug and Lettuce, Zizzis, Giraffe and Wagamama to name but a few, alongside independent restaurants like Horton's Fine Dining restaurant and snack bars, catering for every occasion and budget. You may recognize some of those big branded food giants which can be found in Birmingham City Centre as well. However if you fancy something completely different, then there's even more to tempt your taste buds in the villages and hamlets with a host of gastro pubs like Morton's Kitchen in Dickens Heath, exquisite Peel's Restaurant at Hampton Manor or Loch Fyne fish restaurant in historic Knowle.